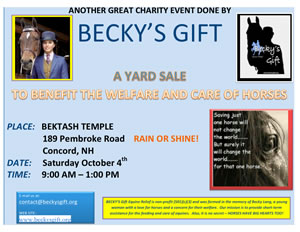 You know you want to clean out the basement, now's your chance. Take care of two issues at once. 1. Your house will be cleared of clutter. 2. All the proceeds from the sale goes to help NH horses and their owners in need. And they pick up! Please email Kathy at kblangfarm@comcast.net to help this very worthy cause.
Oct 4th is our fundraiser yard sale. It will be held in Concord at the Bektash Temple 189 Pembroke Rd from 9:00-1:00. This will be held indoors so weather will not be a factor.
We are currently looking for donations, items in good condition are needed. Please pass this along as we need this to be a successful fundraiser. We have been extremely busy this year and with no signs of it slowing down.
Share the news about the yard sale and Becky's Gifts download flyers