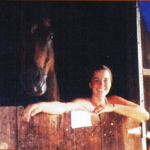 Becky was born April 1, 1982 and grew up in Bow, NH. She graduated from Bow High School in 2000, and then attended the University of New Hampshire graduating with Honors and a degree in Anthropology in 2004.
At age eleven, Becky started showing horses under the tutelage of Deedee Ludlam of Bear Brook Stables in Allenstown.  She owned a special Morgan mare named Gradell's Delight.  Becky and Daisy showed all over New England, most frequently at Deerfield Fairgrounds. They competed in Junior Exhibitor Hack and Morgan Pleasure Junior to Ride classes and were named champion many times.
At UNH, Becky found her second love, archeology, and attended dig sites in Belize, Bolivia, and Guatemala.  She was awarded a full scholarship to complete her Doctorate at the University of California at Riverside, a leading school in archeology.